Anyway, been busy with lots od thing lately. This time i want to share an interesting thing at Japan.
So i was walking back to my place when i saw this....
A mystery drink vending machine... They say that curiousity kills the cat but youve got to wonder what that is right?
I bought it...
The mystert drink was nothing like id expected.
Here it is....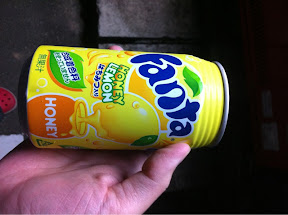 The heck, its just fanta! Plus if you look carefully on thr picture before theres the same thing next to this!
Oh well, since my cat is left with only 6 lives yet ill let this one slide.
Speaking of cat....
Lately before i left my lab i told my labmates that ive to go back to feed my cat. In which theyd respond "youve a cat??" LOL.
If i have a cat, id name it Schrodinger.
They kinda have an image of me as someone that easily laugh. This one time if amongst us would be the casts of warattewa ikenai batsu game, they nominated me. (ーー;)
Oh, my youtube channel has this amazing videos where i levated some stuffs, lol. Check them out.
- iphone